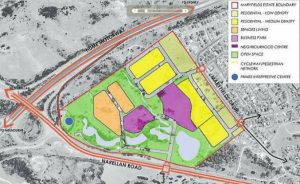 A proposal to build a business park and up to 590 homes next to the Narellan Road and Hume Highway intersection is one step closer, despite concerns from nearby residents.
At last night's Campbelltown Council meeting, the majority of councillors voted to officially endorse the Nexus Business Park proposal and asked NSW Planning Minister Anthony Roberts to make the idea a reality.
The plan for the site – currently home to the Franciscan Friars and Poor Clare Nuns – could accommodate 52,000 square metres of commercial floor space, almost 600 residential homes and about 500 aged care dwellings.
Discussions between the council and the applicant – Capital Syndications – were first held in 2011.
Captial Syndications managing director Wayne Camenzuli said the long process was due to the amount of assessment and the detail required, as well Roads and Maritime Services planners who dragged their feet.
"The planning is much more than a rezoning – it's a city shaper," he said.
"We have left no stone unturned."
However, not everyone was as enthusiastic.
A number of \ Athol residents said they were concerned that access to the residential sector, in the northern section of the site, was only available via two roads in the suburb – Maryfields Drive and The Kraal Drive.
Blair Athol resident Pushpa Fernando first raised his concerns with the Advertiser; in July.
At last night's meeting he again pleaded with the council to only allow access to the entire site via Narellan Road.
However his requests were ignored.
"If there are 1.5 cars per household, that's about 880 cars. Those two roads are only single lane," he said at the meeting.
"We are not against the proposal, we just want access off Narellan Road and through the commercial site."
Mr. Camenzuli said careful consideration was given to how traffic would get in and out of the site.
"The very first 18 months of the six year assessment were dedicated to a traffic assessment," he said.
Original article can be found here: http://www.wollondillyadvertiser.com.au/story/5089728/maryfields-development-passes-major-hurdle/