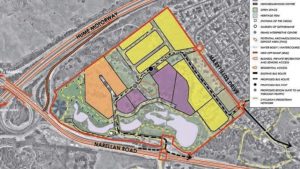 A PROPOSAL to build a business park and new housing estate at the Maryfields Precinct was last week endorsed by Campbelltown Council.
Final approval for the plan, which would see the establishment of the long-mooted Nexus Business Park and 590 new houses, will now rest with the NSW Planning and Environment Department.
The site is currently the long-term home of the Franciscan Friars and Poor Clare Nuns.
Developer Capital Syndications managing director Wayne Camenzuli said concerns about transport infrastructure concerns had been ironed out with Roads and Maritime Service and Transport NSW.
Blair Athol residents had expressed concerns over traffic moving through the suburb. "The estate now has proper access to Narellan Rd, taking traffic away from Blair Athol," he said. "Four hundred homes max, will be developed over the next five to 10 years."
Mr. Camenzuli said the plan was a "city-shaper" for Campbelltown and the culmination of about 10 years of work.
Campbelltown Labor Mayor George Brticevic has previously flagged the need for a business park to be developed in the area to help attract greater local employment opportunities.
All councillors voted in favour of the plans except Greens councillor Ben Moroney.
Original article can be found here: https://www.dailytelegraph.com.au/newslocal/macarthur/a-business-park-and-590-new-homes-at-on-narellan-rd-pass-first-hurdle/news-story/d2b5ca98d7770ffa6447c2cb7d79845c